Whitefish Lake Cottages for Sale
Whitefish Lake is a picturesque body of water situated in central Ontario, Canada, within the township of Parry Sound. It can be easily accessed with just a 15-minute drive from the lake's vicinity. The lake extends up to highway 141, located just west-northwest of the charming town of Rosseau. The locals fondly refer to the lake as two distinct parts: Big Whitefish and Little Whitefish. These sections are separated by the flowing waters of Broad River, which pass underneath highway 141. There are both connected through the narrows to the larger Clear Lake.
Big Whitefish occupies the northern side of the highway and boasts a larger area compared to Little Whitefish. It is also significantly deeper and cooler.  Additionally, Big Whitefish features a fascinating shoal, an underwater island-like formation that remains concealed beneath the water's surface. This unique feature creates a challenge for visibility but also provides an ideal spot for snorkeling.
Little Whitefish Lake is also divided into two parts by a notable feature known as The Channel. The Channel acts as a connection between the southern and northern sections of the lake. The southern part of the lake is relatively shallow, with a maximum depth of approximately 30 feet. It consists of flooded land, forming a permanent man-made swamp. This region includes numerous swampy areas that serve as excellent fishing spots.
Find listings for cottages, waterfront homes & vacant lakefront lots in this beautiful recreational area of near Parry Sound. These MLS® listed properties are supplied through the Canadian Real Estate Association and are provided by participating brokers.
Current Big & Little Whitefish Lake Listings
There are currently no listings available for this lake, please check back soon or sign up for easy automated listing notifications.
Whitefish & Clear Lake Average Cottage Prices
Whitefish & Clear Lake Historic Cottage Sales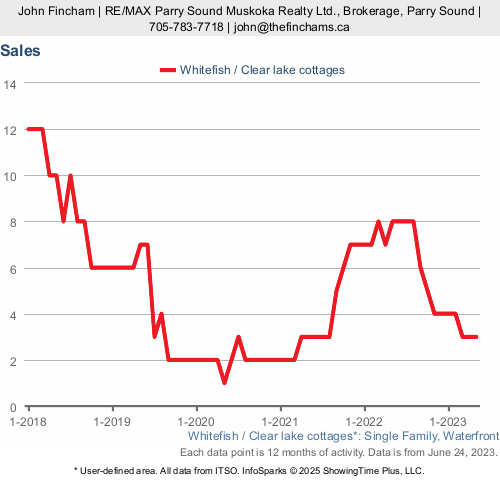 Big & Little Whitefish Lake Map